Travelling from St. Peter Port towards L'Ancresse on the Vale Road just after La Fontaine pub. Perry's Guide Ref: 10 C4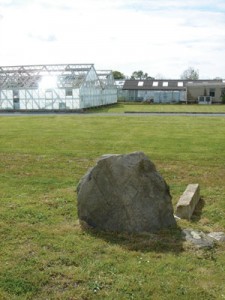 St. Clair Hill is at the foot of the road leading up to Delancey Park. The area at the top (and indeed the lane) is called Les Pointues Rocques. On this hill there was a chapel dedicated to St. Clair, a holy man who was the first Bishop of Nantes in the 3rd century. Far too late in date for this book, though chapels nearly always point to an earlier holy place, burial or spring. The abundance of 'rocque' related names nearby confirms that there was a lot of action from the megalithic builders in this area.
At the top of the lane stood a menhir that was destroyed over 100 years ago, also a natural menhir shaped rock known as 'La Chaise au Prêtre' that stood at the top of La Grosse Hougue was destroyed by quarrying along with a small dolmen in the same area. What is left of this area's megalithic heritage is this menhir a few metres past the brow of the hill travelling north on the left hand side.